Piece written by Alexa Smith, Trive Financial Market Analyst
The EURJPY currency pair tumbled due to a shift in stance from the Bank of Japan (BoJ) regarding interest rates. However, this stance lacked firm conviction as interest rates were ultimately anticipated to remain steady at -0.1%, leading to a resurgence in the uptrend. With no upcoming meetings in the next five weeks and a surge in Japan's GDP growth, the yen's struggles might persist as the market closely examines the BoJ's next steps.
In the second quarter of 2023, Japan's GDP expanded by an impressive 6%, overshadowing the previous quarter's growth of 3.7% and standing in stark contrast to the deceleration to 3.1%. This dynamic supports the continuation of an ultra-loose monetary policy by the BoJ as recovering economic data erases the need for intervention. Meanwhile, the Zew Economic Sentiment and GDP data in Europe hold the potential to reignite sentiment in the Euro.
Técnicos
The EURJPY currency pair is on its way to retesting a 15-year high on the 4H Chart after a swift rejection of the 151.493 support spurred the price action to tick higher. Since the currency pair traded above the 50-day moving average, a breakout from the stubborn 157.427 resistance level encouraged a leg up towards the 159.259 major resistance, which now stands as a potential barrier to further upside opportunities.
If the 159.259 resistance level fails to hold, the currency pair may be encouraged to retest resistance levels last seen in 2008. However, the price action may reject the 159.259 resistance, which may boost the likelihood of a leg down towards the 157.427 support at the 23.60% Fibonacci level. A breakdown of this support may encourage a further pullback towards the 156.376 support, which may serve as a pivot point for a downtrend.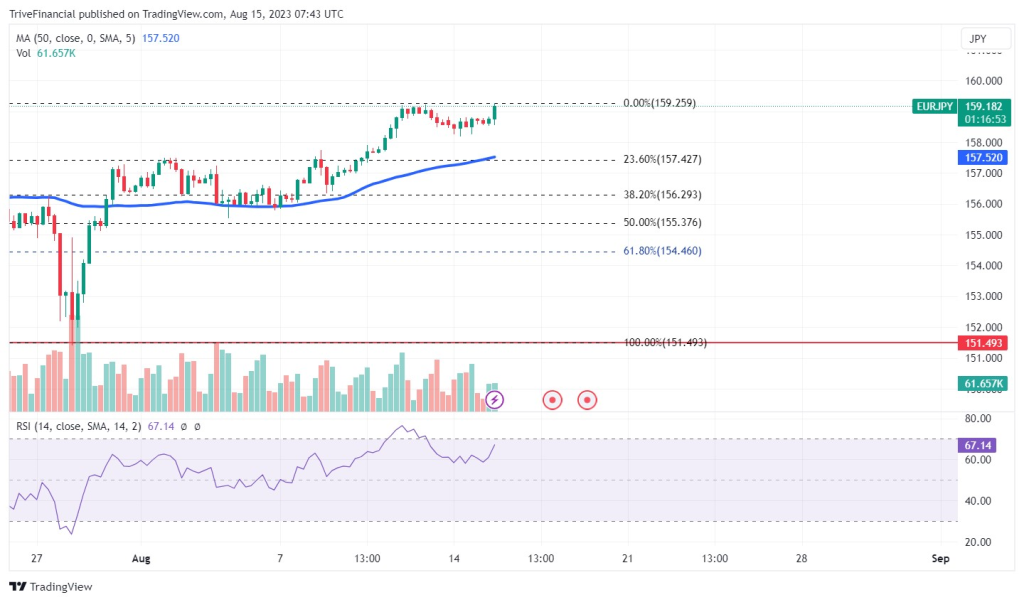 Resumen
The EURJPY currency pair is experiencing an upward trend, with the 159.259 resistance posing a potential barrier to further upside opportunities. If a breakout past the 159.259 resistance is sustained, the currency pair may be encouraged to retest higher resistance levels. However, the 159.259 resistance could hold, which may promote a pullback towards the 157.427 support.
Sources: TradingView
This material is provided for informational purposes only and does not constitute financial, investment or other advice. No opinion contained in this material constitutes a recommendation by Trive Financial Services Malta Limited or its author as to any particular investment, transaction or investment strategy and should not be relied upon in making any investment decision. In particular, the information does not take into account the individual investment objectives or financial circumstances of the individual investor. Trive Financial Services Malta Limited shall not be liable for any loss, damage or injury arising from the use of this information.