After closing a third consecutive week in the red, the FTSE100 (LSE: UKX) opened the current week with traders attempting to recover losses. The index is up 0.38% week-to-date and is being boosted by a risk-on drive which has seen the Greenback lose ground in early Tuesday's trading on the back of a potential pause in rate hikes.
The past two weeks saw the Pound bolstered by bullish U.K. economic data at the expense of the FTSE100. The Composite PMI exceeded expectations, landing on the 54 mark versus 53.9, supported by upbeat activity in the services and manufacturing sectors. Employment change resembled a resilient labour market, growing by 250K compared to 182K in March. Traders took another rate hike by the Bank Of England to heart as the economy showed strength while inflation sticks out above the 2% target by slightly over fourfold.
Technische Analyse
The FTSE100's sell-off was stopped in its track by bullish traders establishing support at the 7444.40 level. The sell-off, which commenced from an ascending triangle pattern breakout, left behind resistance at the 7790.71 level. The index is firmly in a downtrend as the price trades well below its 100-day moving average; however, a recovery is in progress.
The rejection of the support level saw bullish traders come out of hiding to buy into the index with conviction. The 61.80% Fibonacci Retracement Golden Ratio at the 7660.40 level established an intermittent resistance where sellers had stood their ground. A high volume breakout above the 7660.40 level could indicate persistent upside momentum, which could see the index move higher, with the 7790.71 level likely earmarked as a point of interest.
In contrast, if the 7660.40 level holds as resistance, upside price action could face selling pressure. If bearish traders come to light, the index could be lowered toward the 7444.40 level.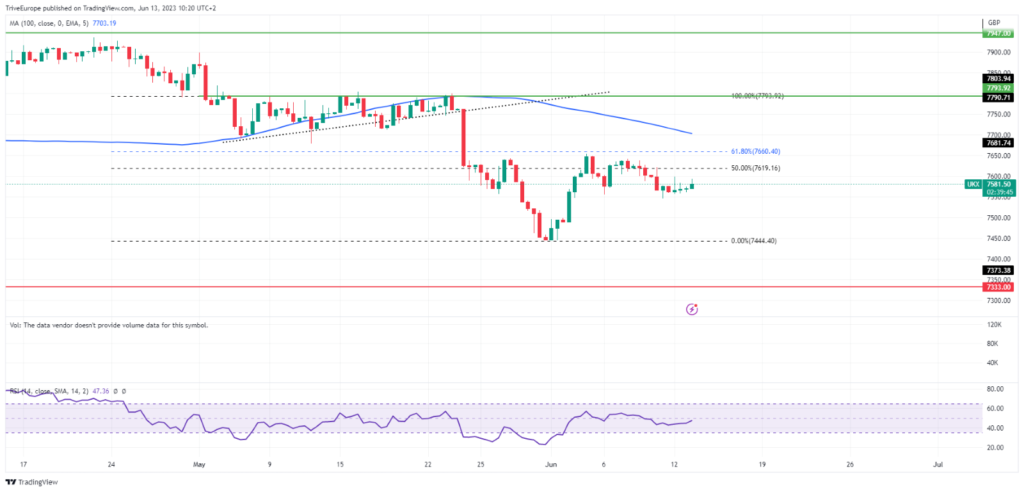 Zusammenfassung
This week, the index will face key economic events that could impact its volatility. The U.S. CPI and Interest Rate decision will likely define risk sentiment, while the 7660.40 level acts as a pivot for bullish or bearish price action.
Quellen: Reuters, TradingView