DAX 40 bulls were sent packing following a much higher-than-expected U.S. Producer Price Index (PPI) reading. A hawkish theme has the upper hand as inflation remains elevated in the U.S., prompting further rate hikes by the most important Central Bank in the World, The Federal Reserve.
Technical
DAX 40 futures (EUREX: FDAX) suffered losses that stalled its uptrend in the latter part of Thursday. The index shed 0.91% as U.S. inflation hardened.
A retracement near resistance at the 15696 level ensued to bring price within its 50-day moving average in pre-market trade. Support at the 15080 level is far off at present but remains a possible level of interest if bears take the hawkish train. A breakout below the 15441 level on high volumes, represented by the black dotted trendline, could potentially validate a bearish case.
Bulls are likely to experience higher friction to the upside, with the 15696 level a probable level earmarked if bulls refuse to concede at current levels.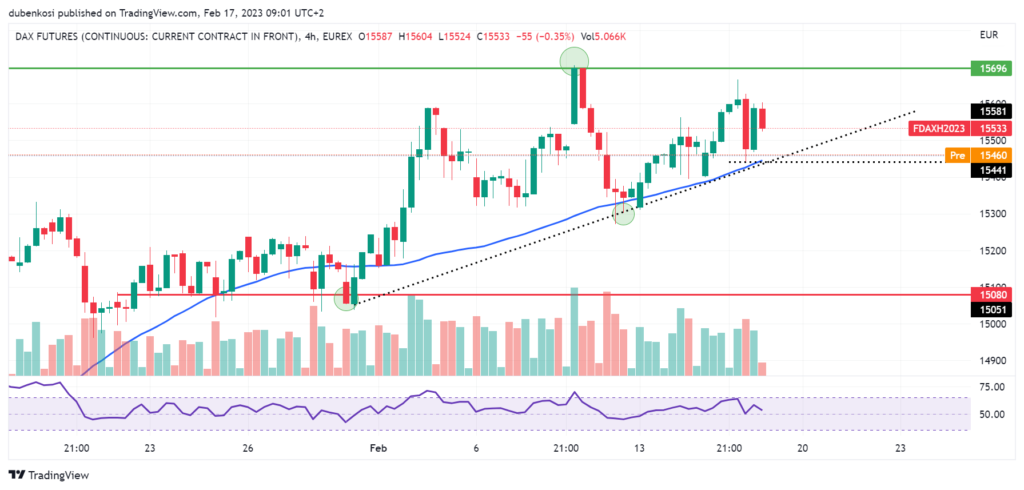 Summary
The 15441 level is pivotal for DAX 40 traders as PPI data, which came in 0.3% higher than expected, will be easily digested by hawkish traders. Traders will look to the level to establish the day's sentiment.
Sources: Investopedia, TradingView