Higher for longer is the term ringing around the corridors of financial institutions and amongst traders. The DAX40 Futures (EUREX: FDAX) shed 2.33% from last week's highs as the Federal Reserve's preferred gauge for inflation, The PCE Index, came in hotter than expected. The PCE index shot up to 0.6% compared to 0.2% in December, raising prospects of further rate hikes.
Technical
After a period of sideway consolidation in a rectangle pattern, bears took control of the market and dragged price into a breakout below support at the 15317 level on high volumes. The resistance currently stands at the 15575 level.
With the market pointing towards the downside, if bears continue to dominate, it is probable that the 15080 level is a level of interest.
Alternatively, if bulls resurrect, they will look to the 15317 level as a pivotal zone for upward price action and a potential breakout above the level if they buy into the index on high volume.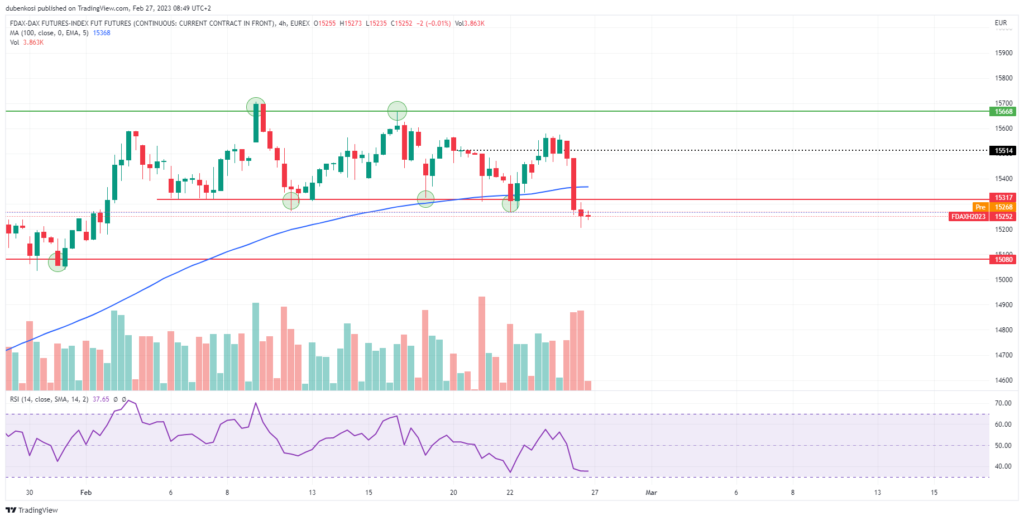 Summary
On Thursday this week, The European Central Bank (ECB) will release its Preliminary inflation rate for February. A tick-up in Eurozone inflation could further prompt a rate hike by the ECB as they target a 2% inflation rate. The 15317 to 15080 range will be pivotal as bears will likely look to the range for opportunities if inflation comes in hotter than expected.
Sources: Reuters, TradingView