The German economy has officially moved into a recession after recording two consecutive quarters of contraction. The latest quarter saw GDP contract by 0.3%, while the last quarter of 2022 contracted by 0.5%. Consumers have been feeling the pressure of stiff inflation as household consumption was down 1.2%.
The DAX40 Futures (EUREX: FDAX) started the week on the back foot as the debt ceiling crisis stalemate failed to provide any signs of resolve. However, the 3% selloff has now stalled, with traders opening up to the possibility of a less restrictive monetary policy by the European Central Bank, due to the ongoing recession in the most influential European economy. In addition, Debt Ceiling talks are also seemingly shaping up, potentially favouring risk sentiment.
Technical
The DAX40 Futures have stalled a selloff at the support of 15826 from resistance at the 16371 level. The index uptrend remains intact, with the price just touching the 100-day moving average and staying afloat.
If bulls uphold the 15826 level as support as RSI conditions point to oversold levels, a reversal could play out, with the 16371 all-time high potentially earmarked as a point of interest in a bull case. In contrast, a breakdown below the 15826 level on high volumes could signal that bearish traders have some unfinished business. The 15652 level could likely be the next point of interest if bears recommence the selloff.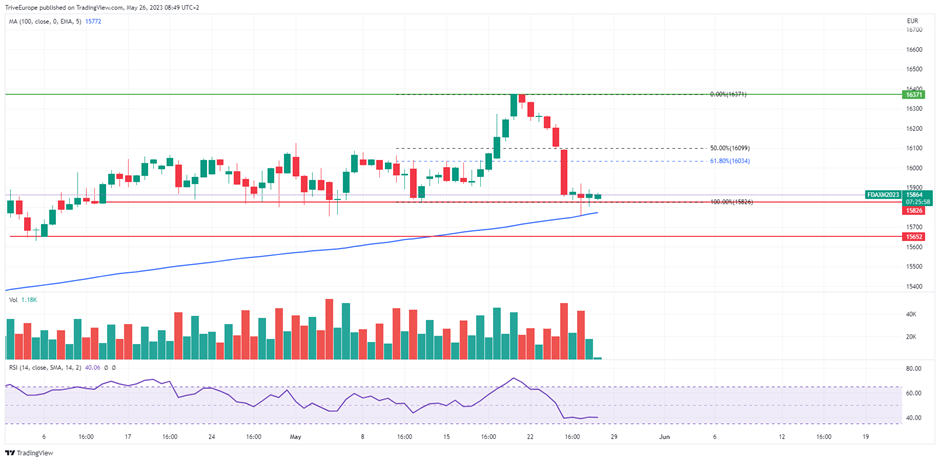 Summary
Europe's services and manufacturing activities, as measured by the S&P PMIs, have stalled and contracted, respectively, indicating that the Euro Area economy is somewhat subdued. This could open up the door to a pause in rate hikes and support the DAX40 Futures as borrowing costs which weigh on earnings, are potentially peaking. Risk sentiment for the week's close will likely be sourced from the U.S., which will release its PCE Index, the Fed's preferred inflation gauge, later today. The 15826 level will probably be a pivot for bullish or bearish behaviour.
Sources: Markit Economics, Reuters, TradingView