After closing off the prior week flat, The DAX40 Futures (EUREX: FDAX) opened the current week with a slight 25 basis point boost. However, the upside was limited as traders anticipate a dense week of economic data and earnings ahead.
The U.S. and Euro Area Interest Rate decisions will highlight the week's economic events, along with PMIs and U.S. Labour market reports. Big names are also set to release earnings this week, with over a quarter trillion of the DAX40 Futures market capitalisation reporting. Traders will have their eyes glued to the economic and earnings calendar as the DAX40 Futures will likely pick up volatility and direction as the data is released.
Technical
The DAX40 Futures uptrend remains intact, with price trading well over the 100-day moving average. Support and resistance were established at the 15841 and 16046 levels, respectively.
After the price fell out of the rising wedge channel, a sideway consolidation formed a rectangle pattern as traders diligently respected the support and resistance levels. However, Monday's trading session led to price breaking above the resistance level, suggesting that bulls could be firming up their control of the index.
If bullish traders commit to the upside with strong volumes, the index could be led higher, with the next probable level of interest set out at the 16267 level. Alternatively, a reversal is probable, given that the breakout above the resistance level occurred on average volumes indicating the lack of bullish conviction. If bearish traders find interest in the index, a reversal is probable, with the 15841 level likely enticing bearish traders to short.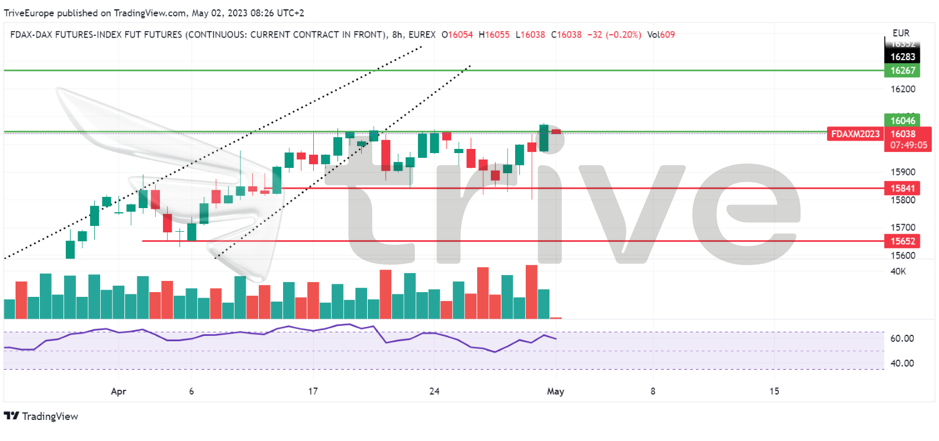 Summary
The 15841 and 16046 levels will be vital in determining the market's reaction to oncoming data and earnings this week. Should interest rate rise in both the U.S. and Euro Area, higher borrowing costs and discount rates could weigh on the index, leaving the 15841 level and lower probable. However, if earnings come out positive on average, upbeat sentiment could support the index.
Sources: Reuters, TradingView