The release of the U.S. CPI data sent the DAX40 Futures (EUREX: FDAX) surging by 1% as traders turned euphoric on the data, which showed U.S. inflation cooling slightly. Traders momentarily expected the Federal Reserve to pause rate hikes in the upcoming May decision.
However, the FOMC minutes pulled the rug from under the feet of bullish traders', with terms like mild recession cautioning bulls. The Federal Reserve forecasts a mild recession later this year due to stress in the banking sector. In addition, the minutes showed another rate hike is likely as the Federal Reserve looks to bring inflation back within its 2% target.
Technical
The DAX40 Futures remain in a strong uptrend, with price trading far-flung from its 100-day moving average and forming a rising wedge pattern. Support was established at the 15652 level, while a rejection of the 50% Fibonacci Extension level formed resistance.
With bulls in firm control of the market direction, price action could be redirected toward the 50% Fibonacci Extension at the 15983 level if volumes support the upside move. A breakout above the 15983 level on high volumes could validate an extended move higher with the next probable level of interest at the 61.80% Fibonacci Extension Golden Ratio.
Alternatively, if volume intensifies to the downside, bears could extend the current retracement from resistance, with the 15652 level earmarked as a probable level of interest. With the RSI conditions pointing to overbought levels, a breakout below the rising wedge pattern on high volumes could validate a move lower.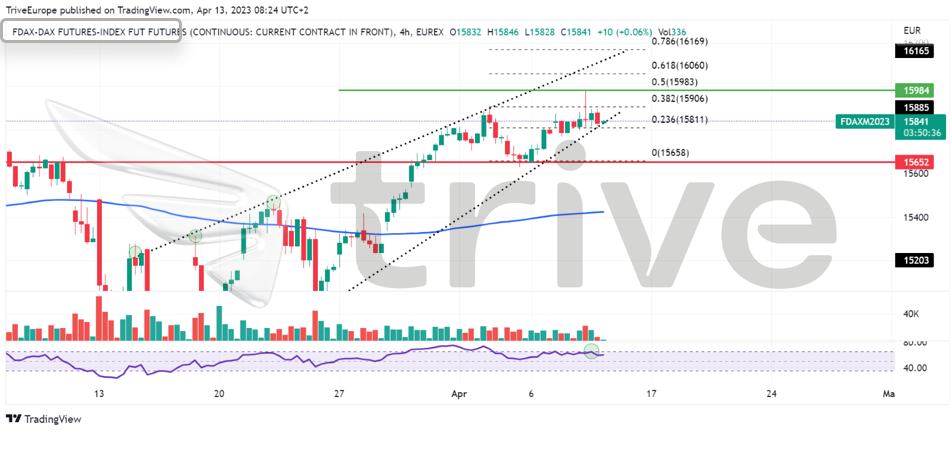 Summary
Month-on-Month German inflation came in flat at 0.8%, while year-on-year inflation is down 1.3% for the month to 7.4%. Despite German and U.S. Inflation cooling, the European Central Bank and Federal Reserve still battle inflation which is above their 2% targets. More rate hikes will likely come in future, dampening equity valuations with higher borrowing costs. The DAX40 Futures upside exposure will probably be limited, leaving the 15983 level key to determining if the uptrend will persist.
Sources: Reuters, CNBC, TradingView