DAX40 Futures (EUREX: FDAX) opened the day 0.85% higher than yesterday's close as risk appetite fed into the upside motion. However, the index is moving lower following the release of the Germany GfK Consumer Confidence, which came in lower-than-expected.
The Germany GfK Consumer Confidence is designed to elicit information on participant's income predictions, buying power and savings. The indicator coming in lower indicates weakening confidence in Europe's biggest economy.
Technical
The DAX40 futures uptrend stalled at a key resistance level at the 15462 level after bouncing off the 61.80% Fibonacci Retracement Golden Ratio at the 15004 level. Volumes declined to the upside, signalling the wearing out of bullish momentum.
With the price trading near resistance, a reversal is probable. If bearish traders commit to lowering the index, price action will likely be headed south toward support at the golden ratio of 15004.
However, if bullish traders fail to give in at current levels, the price could be led towards resistance at the 15462 level. A breakout above resistance on high volumes could signify bullish momentum building up to take the index higher. The next probable level of interest will be the 15644 level.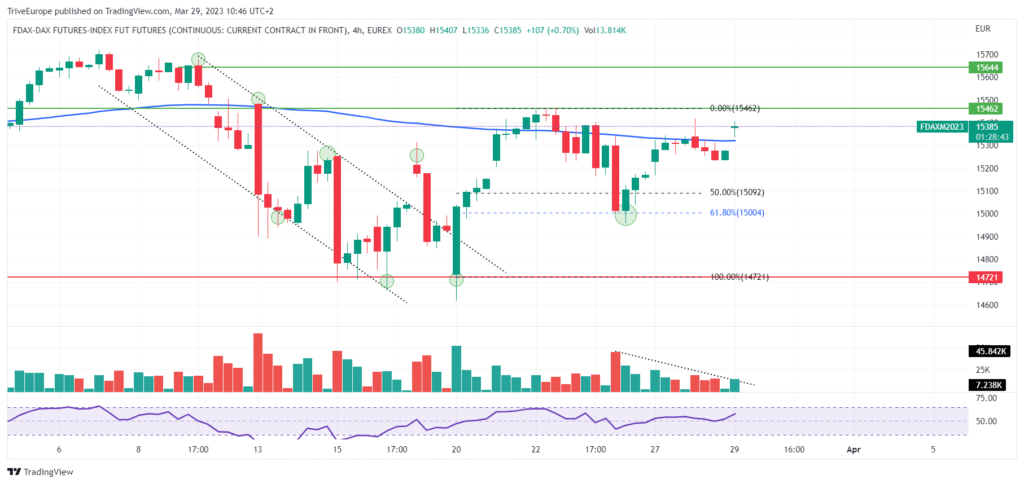 Summary
The Euro Area and U.S. Inflation readings for February are key to price movement for the week. On Friday, the U.S. Bureau of Economic Analysis will release the Federal Reserve's preferred inflation gauge, the PCE Index, after the EUROSTAT releases preliminary inflation results for February. The DAX40 Futures will likely be weighed down if inflation comes in hotter than expected, leaving the 15004 level probable.
Sources: GfK Group, Reuters, TradingView