The European markets certainly put their risk modes on amid hopeful signals that the Eurozone might be able to slip the punch of the highly anticipated global recession. These hopes were sparked by the composite PMI index indicating business activity is finally returning to growth for the first time since June. ECB president Cristine Lagarde added fuel to the bulls' fire by commenting that the Eurozone economy was more resilient than anticipated and that risks may be reducing. The Euro Stoxx index futures (EUREX: FESX) is trading at key resistance, and a breakout may spark the interests of other bulls alike to join in on the optimism.
It may not be all sunshine and rainbows, as we saw in the US with a massive burst in employment reducing the sentiment that rate hikes may finally be behind them. European traders will look for similar signals in the S&P Global Construction PMI and retail sales announcements later today to determine whether their risk-on sentiment is justified. The Euro Stoxx 50 volatility index of 17,5 also indicates that volatility continues to remain below average for the month coming forward.
Technical
The Euro Stoxx Index futures rallied up in the opening weeks of 2023 as sentiment turned positive towards the prospect of the economy recovering from tight global monetary conditions. A consolidation was formed as traders awaited critical central bank decisions to decide the direction of their next moves. The rate hikes being in line with expectations and a potential halt in the tight monetary stance of the ECB sent the index futures through the upper level of the consolidation of 4201 to the resistance at 4260. The price action around this level could be essential. There is the possibility of a retracement back to 4227, and if support does not hold, further down to 4201. There have been a lot of market participants at the 4201 level. If support does hold at 4227, there could be a bounce back to resistance at 4260 if the fundamentals to be released later today meets expectations.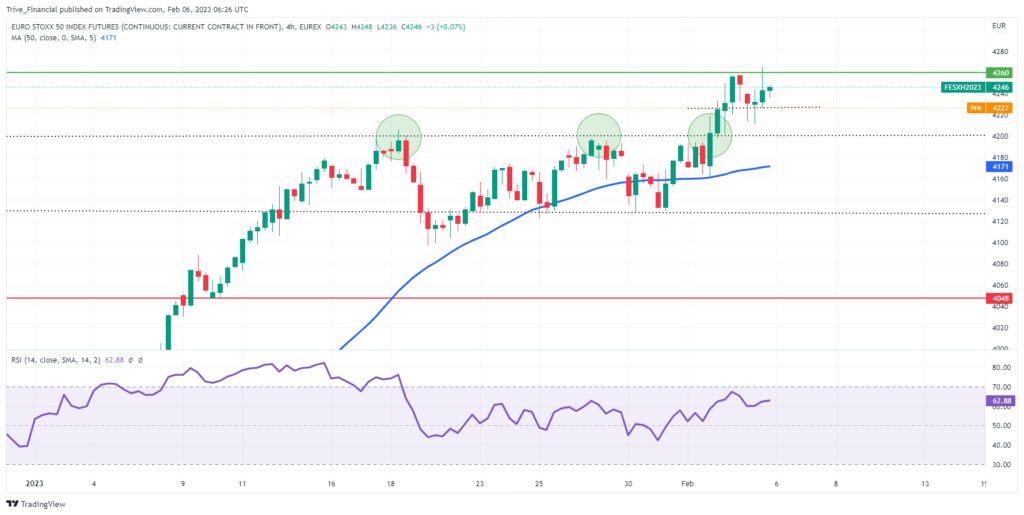 Summary
With a lot of optimism around the European economy's ability to dodge the recession, a potential entry point exists for those bulls at 4227 and 4201 with an estimated target level of 4260 in mind.
Sources: Koyfin, Tradingview, Reuters, CNBC