The bell rang to commence another round of the fight between inflation and the Federal Reserve. In his Testimony on Tuesday, the Fed Chair, Jerome Powell, reiterated the Federal Reserve's commitment to keeping at its battle against inflation by aggressively hiking rates.
The DAX 40 Futures (EUREX: FDAX) shed 1.30% from Tuesday's highs, with most losses incurred during the Fed Chair's testimony. Traders now bet on a 70% chance of a 50 basis point rate hike, up from 30% as hawkishness abounds. The DAX 40 futures will likely experience further downside pressures as its underlying assets with U.S. exposure operate on higher borrowing costs and subdued consumer spending.
Technical
The DAX 40 Futures have traded sideways in a rectangle pattern with support and resistance established at the 15317 and 15695 levels, respectively.
Following a rejection of the resistance level, the index will likely be lowered as bearish momentum drives the market. Bears will likely look to either the 61.80% Golden Ratio Fibonacci Retracement level at 15425 or the support level at 15317 for take-profit levels.
Alternatively, if bulls look to the 61.80% Fibonacci Retracement level as an attractive price and support level, the DAX 40 Futures could reverse and move higher. If price approaches the 15425 level on declining volume, it is likely that bearish interest is subsiding and could lead to a reversal. The next probable point of interest for a bull case could be the 15477 level.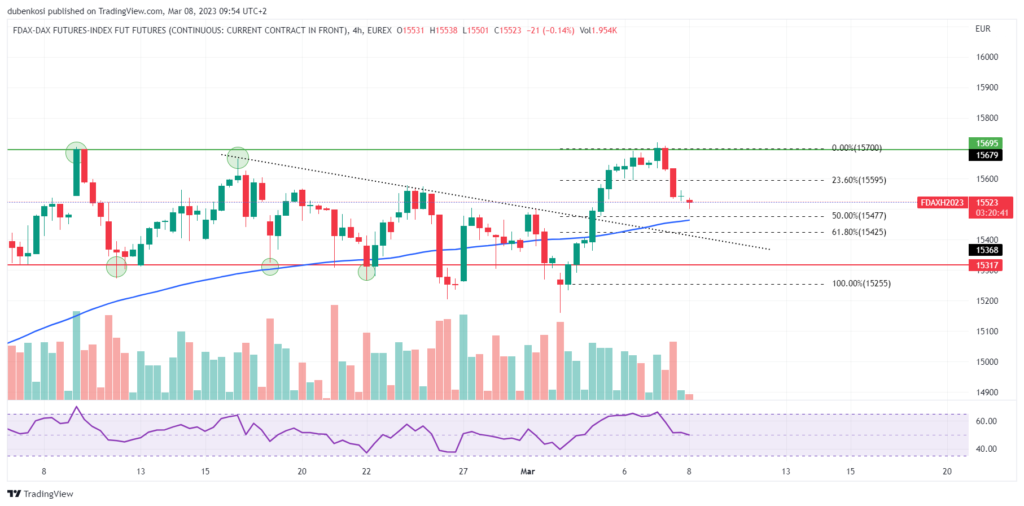 Summary
With hawkishness and bearish momentum currently driving the market, bearish traders will probably target the support level. Higher interest rates will likely lead to capital flows towards the Greenback and U.S. Bonds as risk assets become less attractive.
Sources: Reuters, CNBC, CME Fedwatch Tool, TradingView