The day has finally arrived for the release of the week's highlight, the Non-Farm Payrolls (NFPs). DAX 40 futures (EUREX: FDAX) traders have gone back and forth on the index in anticipation of the critical labour market report to determine where inflation could stand for February.
According to the Fed Chair, Jerome Powell, March's interest rate decision will be more data-driven, suggesting that if the U.S. economy, labour market or inflation show strength, an aggressive rate hike of 50 basis points is probable.
Technical
The DAX 40 futures paused a recent rally ahead of the NFPs as volumes subsided and price action ranged. Support and resistance were formed at the 15226 and 15716 levels, respectively.
Following a rejection of resistance, price action retraced and traded above the 50% Fibonacci Retracement level. The index formed lower highs, indicating the lack of interest by bulls to take price higher.
Price broke out below the 50% retracement level in pre-market hours as bears weighed down on the index. A breakout below the 61.8% Fibonacci Retracement Golden Ratio level (15414 level) on high volumes could signal the market's intention to lower the index, with the next probable point of interest at support.
Alternatively, if bulls look to buy low, a bounce off the 15414 level is probable, with the 15601 level earmarked as a point of interest for a bull case.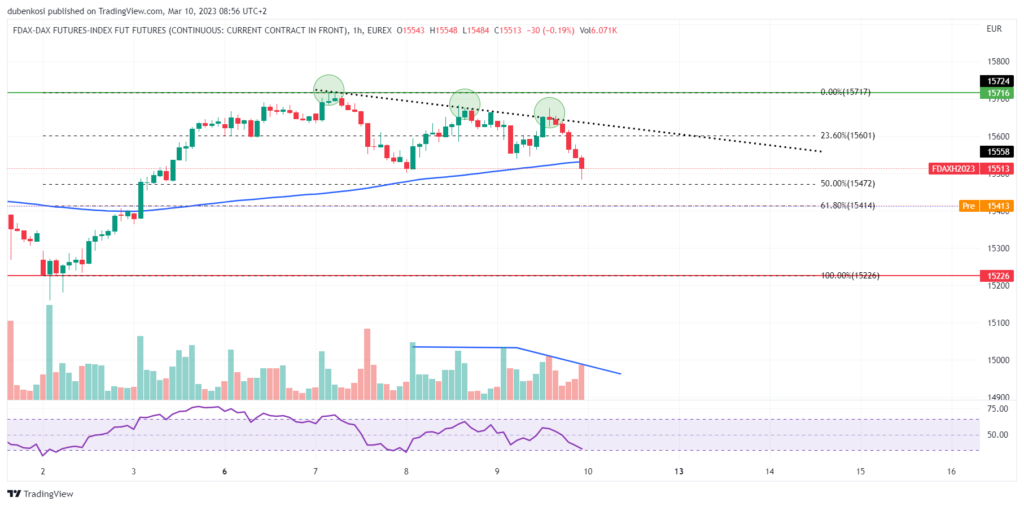 Summary
Traders will await the nail-biting NFPs today following Jerome Powell's shift to a data-driven hawkish tone. If the NFPs are hotter than expected, traders will likely act nervously as inflation fears pick up and lower the index.
Sources: Reuters, Insider, TradingView