Asian session DAX40 (EUREX: FDAX) traders rejected a key support level to open the week following the Higher-than-expected Non-Farm Payrolls, which shaved 1.33% from the index last week. Traders will tread carefully this week as it is jampacked with economic events with a high bearing on equities.
On Tuesday, the U.S. will follow up NFPs with the CPI for February. Thursday and Friday will provide the much anticipated European Central Bank Interest Rate Decision and Euro Area CPI, respectively.
Technical
DAX40 futures opened the week in a range characterised by consolidation within a rectangle pattern. Support and resistance were formed at the 15226 and 15716 levels, respectively.
The consolidation range moving average is at the 15473 level currently and represents the midpoint of the range, which could play a significant role in determining short-term sentiment. A breakout above the level on high volumes could indicate bullish enthusiasm, with the 15716 level likely if bulls persist.
Alternatively, a rejection of the 15473 level could signal the market's intention to keep the DAX40 within the lower half of the consolidation pattern. Bearish traders will likely drag the index towards the 15226 level if a breakout above the 15473 level fails.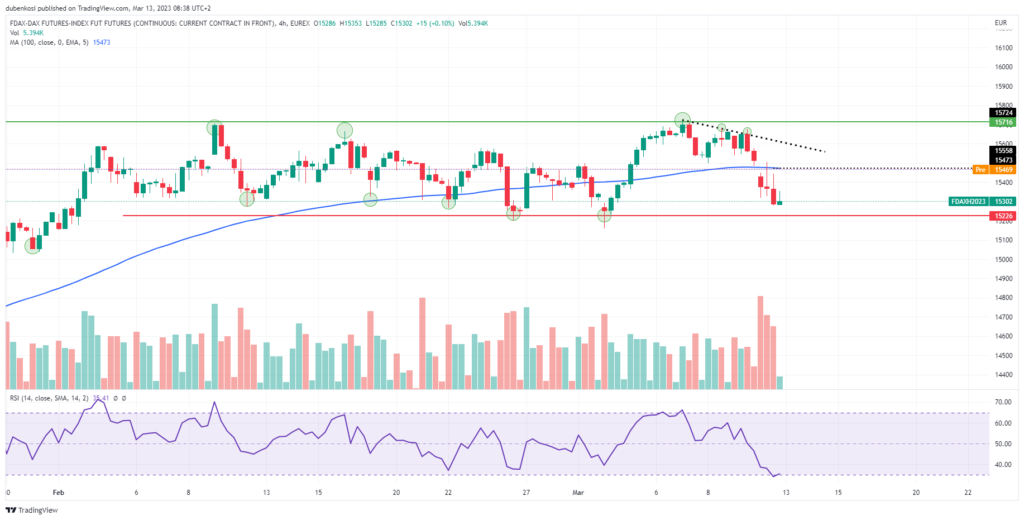 Summary
This week's main drivers of DAX40 futures will be the U.S. CPI, Euro Area Interest Rate decision and CPI. With an expected 50 basis point rate hike, the DAX40 futures will likely be subdued as higher interest rates expand borrowing costs and adversely affect consumer spending.
Sources: Reuters, Insider, TradingView