Dax 40 futures (EUREX: FDAX) shed 0.36% on Friday after Non-Farm Payrolls came out higher than expected. The report revealed strength in the US job market and renewed expectations of a potential interest rate hike by the Federal Reserve in response.
After giving up highs of the year, DAX40 futures may be under pressure going forward as interest rates are likely to be elevated in response to the strong jobs market and high inflation in Europe.
Technical
DAX40 stalled its uptrend and is trading 1% lower than its Friday close, at 15397 pre-market. Traders took the futures lower in anticipation of persistent interest rate hikes. Support formed at the 15305 level after a breakout occurred, while the highs of early February formed resistance at the 15586 level.
Due to the greater bearish momentum, DAX40 futures are likely to be drawn down to support a target at the 15305 level. If bullish activity begins to filter through the market, traders will closely monitor the resistance level at 15586 as a potential target.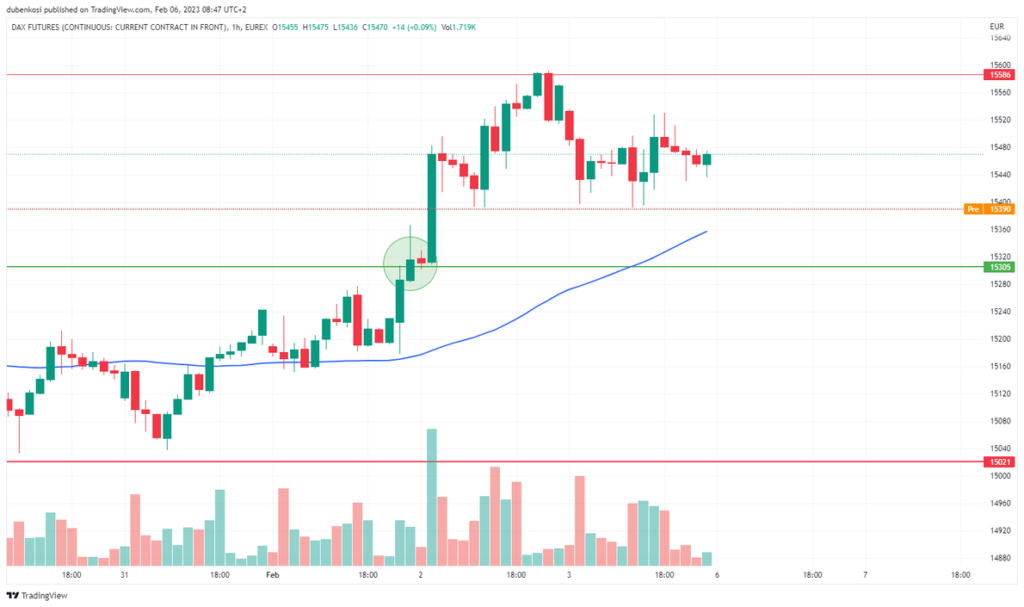 Summary
High-interest rates hinder growth and raise borrowing costs, putting highly leveraged corporate valuations at risk. German corporate valuations will likely be subdued due to high-interest rates in light of the European Central Bank's stance.
Sources: Reuters, TradingView