Following hotter-than-expected US reports that signalled persistent inflationary pressures, DAX 40 futures' (EUREX: FDAX) bears went into selloff mode, lowering the index by 2.18% from Thursday's highs. Bulls came in at a pivotal low to recover some losses before the week's close.
According to Reuters, Goldman Sachs and Bank of America now expected three more interest rate hikes with a likely target range of 5.25% to 5.50%, further putting pressure on DAX40 futures in the medium term.
Technical
DAX40 futures have trended upwards, with higher lows and matching highs forming an ascending triangle pattern. Support and resistance were established at the 15373 and 15668 levels, respectively.
Following a bounce from the upward-sloping trendline, bulls navigated the index to the upside, making the 15668 level a probable level of interest. A breakout above the level could signal a continuation of the trend if bulls concur with the pattern.
Alternatively, if bulls give in at current levels, bears will likely look to the trendline for a high volume breakout below, to activate bearish sentiment with the 15373 level a potential level of interest.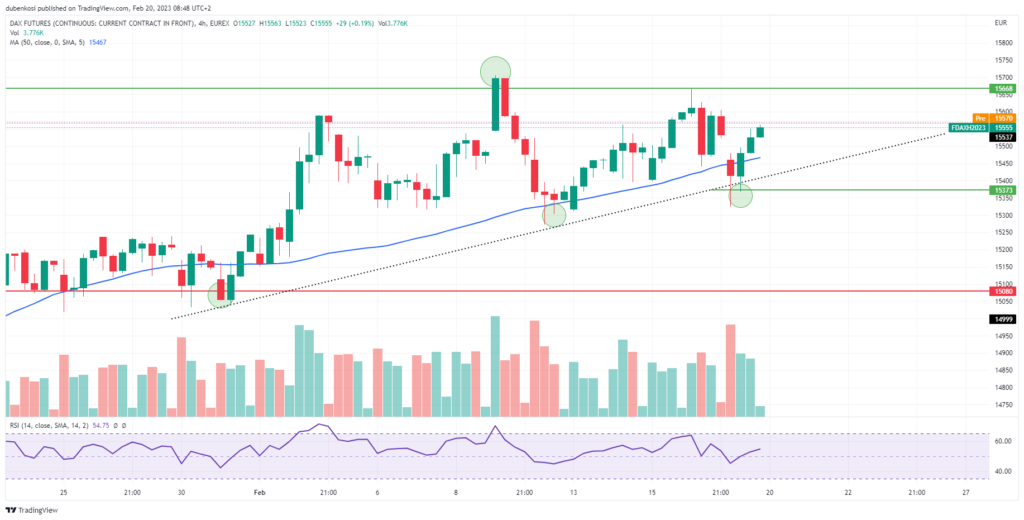 Summary
Inflation remains the dominant driver for markets at present. The 15668 level and trendline are pivotal as the market's current interaction is limited to the pattern. A breakout on either side could become the dominant direction of the index.
Sources: Reuters, TradingView