The DAX40 Futures (EUREX: FDAX) opened the week, pointing to the north with traders driving the index higher by 0.72%, above the prior week's close. Without any earth-shattering events occurring in the banking sector this past weekend, traders will watch how the week unfolds.
Major events lined up for the week include German Ifo Business Climate, U.S. Labour Market Reports, the Euro Area's Preliminary CPI, and the PCE Index, the Federal Reserve's preferred inflation gauge.
Technical
The DAX40 Futures undid a downtrend following a breakout above the descending channel pattern. Price action moved aggressively higher, leaving support at the 14721 level, while a rejection of the 15462 level formed resistance.
Price retraced toward the 61.80% Fibonacci Golden Ratio before being met with bullish momentum. If bulls look to stay in control, price action could be led towards resistance at the 15462 level.
Bearish traders will likely sit out and look to sell high, leaving the 15462 level as the most probable point that traders will look to sell from. Bearish traders will probably be interested in taking the index lower towards the 14721 level if they commit to the move with high volumes.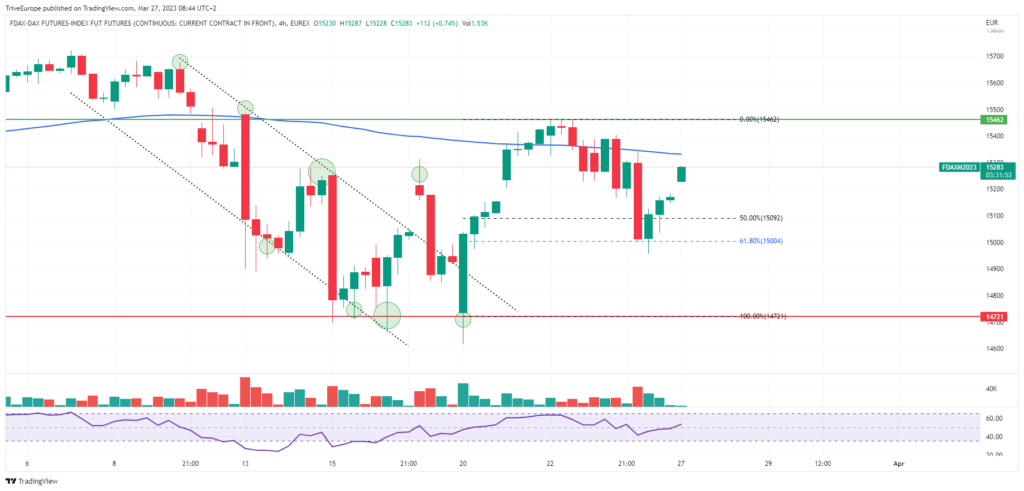 Summary
This week's main drivers of the DAX40 Futures will be the inflation readings in Europe and the U.S. Traders will be keen to see whether inflation remains resilient in the face of high-interest rates, which are meant to cool it down. If the Euro Area inflation proves to be sticky, it could prompt an aggressive rate hike by the European Central Bank, further weighing on the index.
Sources: Reuters, TradingView