The slowdown in U.S. economic activity had been the main driver of sentiment in the prior weeks as the theme shifted to a possible recession, putting pressure on equities.
However, fears of a probable recession faded in the prior week following a much stronger-than-expected U.S. Non-Farm Payroll report which surged 253K versus 180K expected. The DAX40 Futures (EUREX: FDAX) leaped 1.75% from the prior week's lows as traders took the more robust jobs report as a sign of resilience in the largest economy in the world.
The economic calendar for the week is relatively quiet on the European front, with the only major event upcoming in Germany, April inflation rates. The U.S. will likely drive sentiment as April inflation readings and labour market reports are closely monitored by traders looking to determine if a recession is genuinely out of the picture.
Technical
Despite surging significantly, the DAX40 Futures' upside was limited to the sideway consolidation barriers that have developed over nearly a full calendar month. The sideway consolidation formed a rectangle pattern with support and resistance established at the 15841 and 16064 levels, respectively.
Following a rejection of the support level, bullish traders piled into the market to take the index to its resistance level at 16064. A high volume breakout above the level could prompt a leg up, with bullish traders likely aiming for the 16267 level, which forms the all-time high for the index.
Alternatively, if bearish traders look to follow the classic approach of shorting from the resistance level, a reversal is probable if supported by substantial volumes. Bearish traders will likely earmark the 15841 level as a point of interest.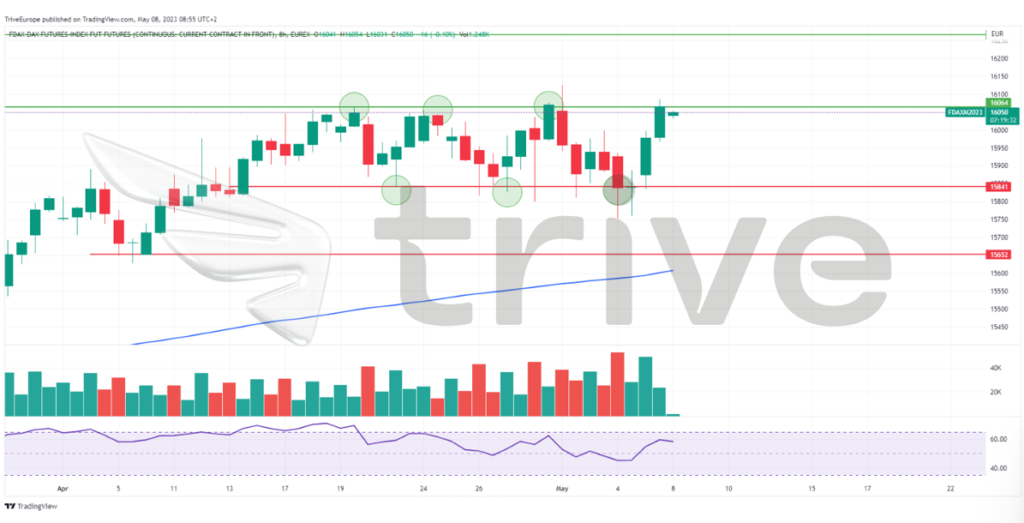 Summary
Despite recessionary fears easing, European Central Bank (ECB) members have provided gentle reminders that the fight against inflation is not over yet. The ECB has left the door open to further rate hikes should inflation remain sticky. Further rate hikes will likely leave the DAX40 Futures facing mid- to long-term headwinds. The 15841 and 16064 levels will be vital in determining where the index will probably move next.
Sources: Reuters, TradingView