The DAX40 Futures (EUREX: FDAX) have been under the duress of bullish traders since the close of the prior week, with the bullish momentum spilling over into the new week.
The DAX40 Futures gained a meagre 0.45% this morning as traders returned from a long weekend in Europe. Declining U.S. Job Openings and weakening manufacturing data restored calm to risk asset traders and investors as bets of another Fed rate hike submerged temporarily, lowering the greenback and driving the index higher. 
Technical
The DAX40 Futures have trended upwards, with price action trading above the 100-day moving average while forming an ascending channel pattern. Support and resistance are located at the 15652 and 16060 levels, respectively.
If bullish momentum drives sentiment for the week, bullish traders could be looking to take the index towards the resistance level, which coincides with the 61.80% Fibonacci Extension Golden Ratio. If upside price action is followed by volume, it could validate the presence of bullish participants in the market.
Alternatively, a selloff could play out if bearish traders view the index's value as overpriced. Bearish traders will likely look to the 15652 level with interest if they outnumber bullish traders at present levels.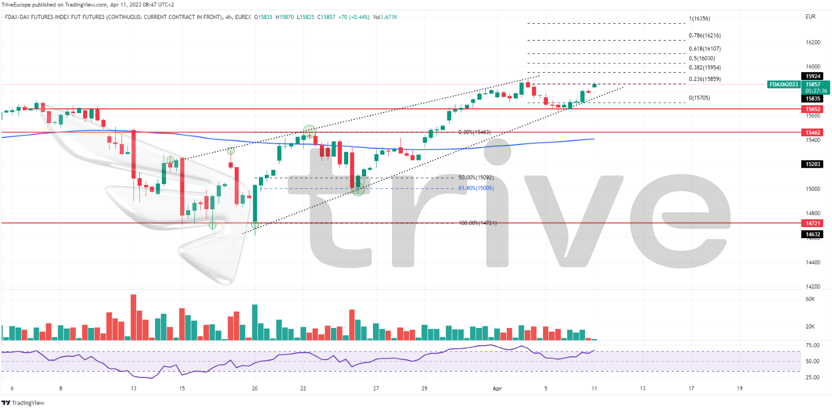 Summary
Traders will turn their attention to today's Euro Area Retail Sales and Thursday's German Inflation Rates for signs of the region's economic health and probable European Central Bank policy direction. The U.S. CPI on Wednesday will provide traders with clues on the Federal Reserve's next policy direction. The DAX40 Futures could find upside price action likely if inflation in Germany and the U.S. points lower, making the 16060 level probable.
Sources: Reuters, TradingView