DAX40 Futures' bulls (EUREX: FDAX) may have found consolation in the relatively flat Eurozone CPI and Year-on-Year inflation reading, following reports (Purchasing Managers Index) which signalled an uptick in Eurozone economic activity.
Inflation remains at the top of the European Central Bank's (ECB) hitlist as it aims to slow down the economy and bring inflation within the 2% target.
Technical
The DAX40 futures is in a broad consolidation characterised by a rectangle pattern formation. Support and resistance formed at the 15317 and 15668 levels, respectively.
Following a bounce from support, price has ticked up towards the resistance level. Bulls will look to the 15668 level with interest if they continue to drive the market higher.
Alternatively, if bears sweep into the market at the current price or resistance level, price will probably be dragged down towards support at the 15317 level to fit in with the consolidation pattern.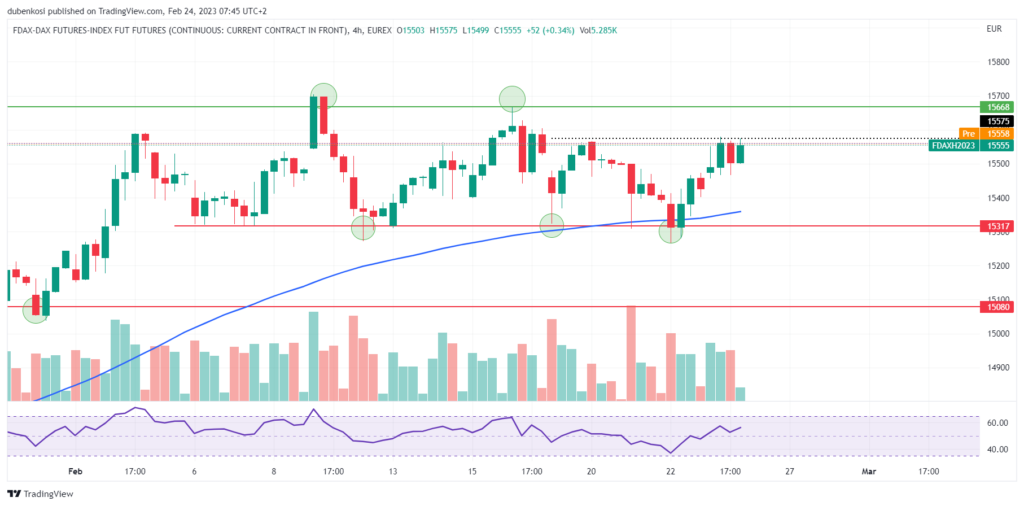 Summary
Traders will shift their attention to today's PCE Price Index, the preferred inflation gauge of the Federal Reserve. Higher inflation will likely prompt further rate hikes, adding pressure on equities as capital flows to safer, high-yielding destinations. A breakout to either side of support or resistance could mark the end of consolidation and the beginning of an extended move in either direction.
Sources: CNBC, Reuters, TradingView