The DAX40 Futures (EUREX: FDAX) is on course to recover last week's losses after surging 2.84% from the prior week's close. Traders have pushed the index higher as risk sentiment was on tap.
The acquisition of Credit Suisse by UBS Bank and efforts by U.S. authorities to inject liquidity into their domestic banking sector calmed market fears as traders likely viewed these events as a bandage placed upon the sector's open wounds.
Traders will be glued to today's U.S. Interest Rate decision as the Federal Reserve makes a vital decision to either fight off above-target inflation with a rate hike or protect the banking sector from further fixed-income portfolio losses with a pause.
Technical
The DAX40 futures' downtrend stopped in its tracks following the breakout above the descending channel's resistance and the 100-day moving average. Support and resistance were established at the 15241 and 15488 levels, respectively.
Following a breakout above the 15241 level, bullish traders drove the index higher on strong momentum. Bullish traders likely earmarked resistance at the 15488 level as a probable target.
On the other hand, if bearish traders undo the work of the bulls, a retracement is likely. Bears will likely aim for the 15421 level if downside momentum picks up. A breakout below the 15241 level on high volume could prompt an extended leg down, with the 50% Fibonacci Retracement Level at 15075 most probable.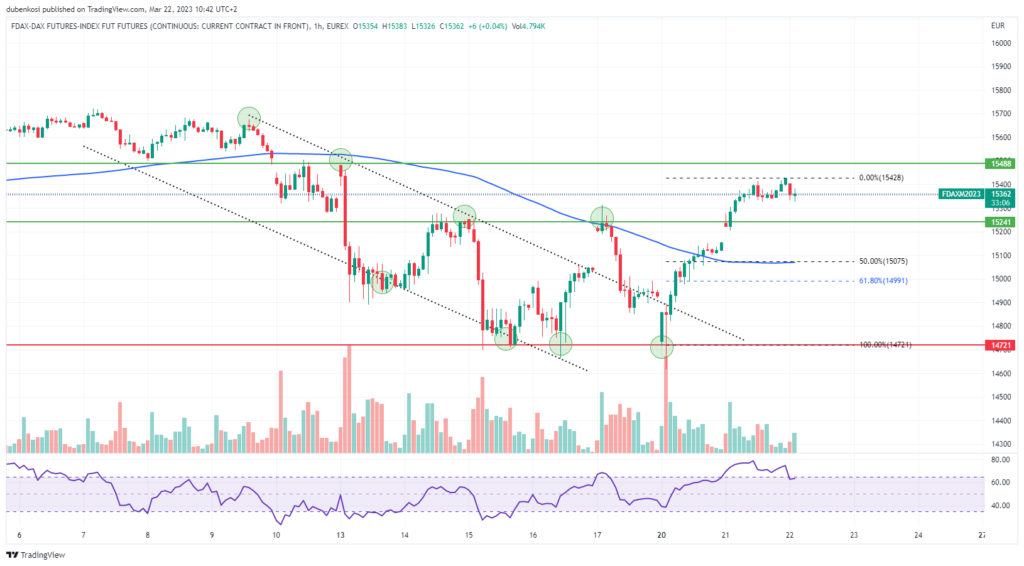 Summary
The DAX40 futures will likely find downside momentum picking up if the Federal Reserve implements an interest rate hike later today. A higher U.S. interest rate will likely prompt gains in Safe-Haven assets at the expense of risk assets, including the DAX40. The 15075 level is probable if downside momentum emerges.
Sources: Reuters, TradingView