DAX 40 futures (EUREX: FDAX) took a knock on a week-to-date basis, declining 1.16%, following buoyant economic data (U.S. and Eurozone Purchasing Managers Index) that suggested continued resilience in the U.S. and Eurozone economies.
Traders sought after bonds as expectations of further rate hikes prevailed. Subsequently, the U.S. 10-Year Bond Yield surged to a three-month high, while the German 2-Year Bond Yield reached its 14-year high at 2.952%.
Traders will look to the German and Eurozone inflation data and the Federal Reserve's minutes for cues on policymaker's interest rate expectations this week.
Technical
DAX 40 futures' uptrend might be threatened, following a breakout below the upward-sloping trendline. Support and resistance were established at the 15317 and 15668 levels, respectively.
Following the breakdown below the trendline, traders will monitor the 15317 level with interest if bears stick to their guns. A breakout below support on high volumes could further signal the market's preparation for another leg down, making the 15080 level a probable point of interest.
If bulls find light at the end of the tunnel, the 15562 level, which forms a higher low in the current market conditions, will be the next level of interest.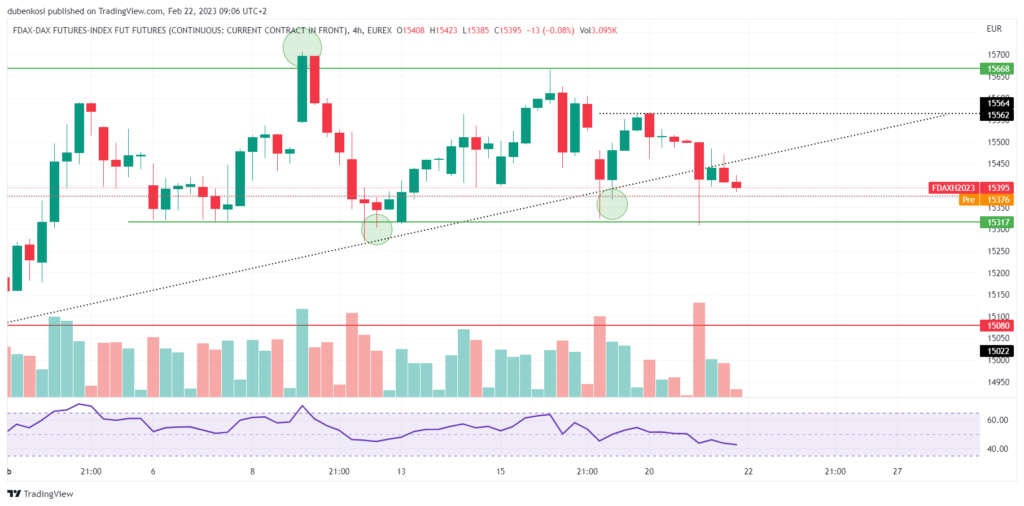 Summary
Month on month, German inflation came in as expected but advanced from last month with a 1% growth. As a result, DAX 40 futures will likely be under the spell of the bears. The 15317 level is pivotal as it could be a target for bears but could validate further downside price action for the index if a breakdown below occurs.
Sources: Reuters, TradingView