DAX 40 futures (EUREX: FDAX) trading volume subsided ahead of the Eurozone Purchasing Managers Index (PMI), German Inflation and U.S. PMI economic releases. Inflation will be the focal point as traders look to the economic data for signs of its development.
If economic activity picks up, traders might stage a hawkish operation on the index as it will likely compel a response by central banks to slow their economies down with rate hikes.
Technical
Following a rejection of resistance at the 15493 level, price retraced to support at the 15317 level, coinciding with the 61.80% Fibonacci Retracement Golden Ratio level within the minor uptrend. Bulls entered the market at the Golden Ratio and drove price higher before volumes subsided.
With the range support and resistance in place, bulls and bears are probably battling to control the index direction. Bulls will look to the 15493 level as a take-profit level if they commit to driving price up. Alternatively, a breakout below the present market support at the 15359 level will probably entice bears to look to the 15317 level with interest.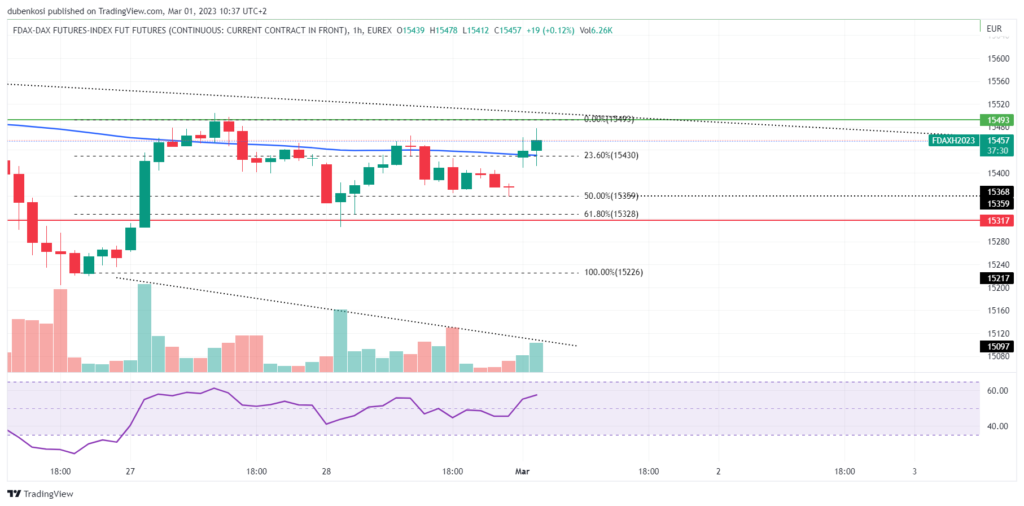 Summary
DAX 40 Futures' volatility will likely surge ahead of key economic data. If inflation proves to be sticking around, interest rate hikes will likely prevail at the cost of the index. A breakout to either side of the range's support or resistance will likely cause a shift in sentiment.
Sources: Reuters, TradingView