Following the release of the slightly higher-than-expected US CPI data, DAX 40 Futures (EUREX: FDAX) whipsawed in a wide range to close the day relatively flat, with a minuscule 0.06% gain.
U.S. Inflation data remains elevated, with Month on Month inflation gaining 0.5% in January compared to 0.1% in December 2022. Despite stubborn inflation data, Year on Year inflation suggests that disinflation is currently in progress, evidenced by the 6.4% reading for January compared to 6.5% the prior year.
Technical
DAX 40 futures' paused in its upward stride as traders looked to crucial inflation data from the U.S. to indicate the U.S. Federal Reserve's policy outlook.
Following a retracement from resistance at the 15696 level and a bounce off the 61.8% Fibonacci Retracement Golden Ratio zone near the key 15290 level, price is attempting to test the 15290 level. Bearish momentum seems to cave in at the zone, suggesting bulls are present in the market. A breakout below the 15290 level on high volumes could signal thriving bearish momentum, potentially making the 15080 level a pivotal zone to watch.
Alternatively, should bulls regather momentum at the 15290 level, price could potentially be driven up towards resistance at the 15696 level.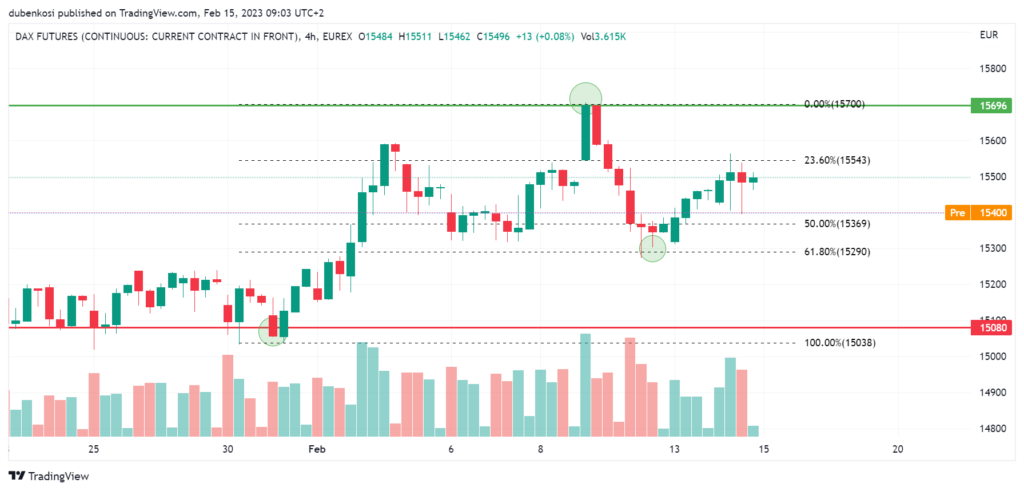 Summary
Traders have found solace in the idea of disinflation being in progress. Sentiment currently leans towards the hawkish side, as stubborn inflation will likely promote elevated interest rates. The 15290 level is pivotal as it could define the overall bearish or bullish sentiment.
Sources: Reuters, TradingView