DAX 40 futures (EUREX: FDAX) paused a rally at a critical high point ahead of this week's important events. Traders will look for direction from the United States Fed Chair Powell's Testimony and U.S. Labour Market report, including the crucial Non-Farm Payrolls.
Inflation remains a sensitive topic that traders and investors alike are monitoring. Signs of higher inflation will likely mean further rate hikes by the Federal Reserve, weighing down on equities at the benefit of U.S. Dollar Cash and Bonds.
Technical
Following the formation of a descending triangle, price broke above the 15493 level, which formed resistance and now acts as support. Resistance is currently at the 15668 level, which formed highs in February.
If hawkish sentiment dominates market dynamics, a rejection of the 15668 level is probable. Bearish traders will look to the 15493 level with interest if they drag price lower.
Alternatively, if bullish traders fail to back out of the market, a high volume breakout above the 15668 level could validate an extended move upward, with the next probable point of interest being the 15754 level, derived by the 23.6% Fibonacci Extension level.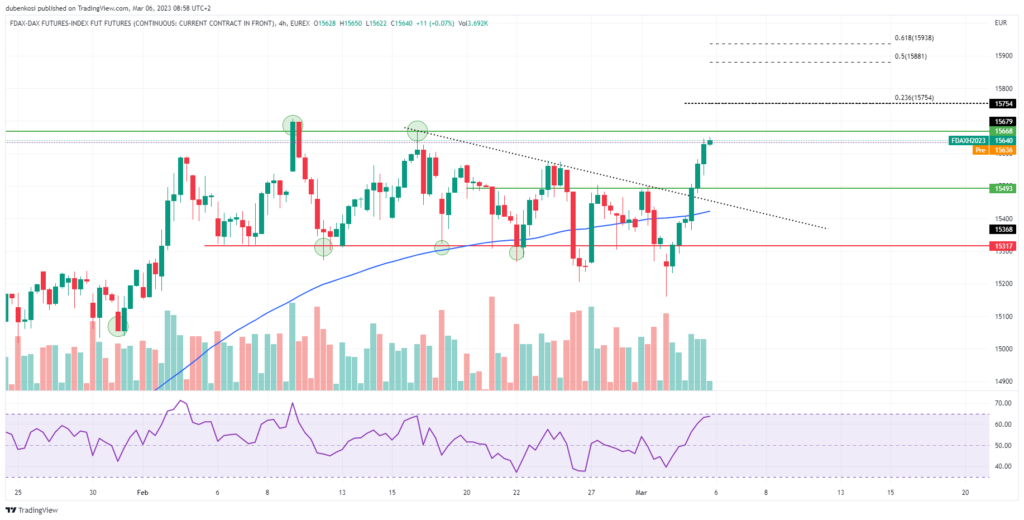 Summary
With resilient inflation being the primary battle for global central banks, the Non-Farm Payrolls set to be released this Friday will be pivotal as a more robust labour market could mean higher consumer spending and sticky inflation. If inflationary signs persist, further rate hikes are probable and will likely lead to a capital flight away from equities into safe-haven assets.
Sources: Reuters, TradingView