The DAX 40 futures (EUREX: FDAX) halted its rally just shy of highs last witnessed in February 2022 after shedding 2.10% from Thursday's highs to close off Friday. Signs of a resilient US Job market and growing expectations of continued policy tightening, accompanied by a boost in US Treasury Yields, led to capital outflows from equities for the remainder of the week.
Traders will keep their eyes on the US CPI data set to be released on Tuesday to determine if inflation readings will persuade the Federal Reserve to continue its policy tightening path.
Technicals
The DAX 40's uptrend was paused near 2022 highs and formed resistance at the 15696 level, while support formed at the 15080 level.
A retracement from the highs led the price towards the Fibonacci Retracement Golden Ratio of 61.8% at the 15294 level. Price stalled in the golden ratio and consolidated with low-spread candles to end the week.
Traders will look to the US CPI data to determine their next move, as a higher-than-expected reading could weigh down on global equities. Should CPI data come out higher than expected, bearish momentum will likely drive the market towards support at the 15080 level as expectations of further rate hikes guide the market.
On the other hand, if CPI data comes out weaker than expected, bullish sentiment could regain control of the market, with the 15696 level a possible point of interest.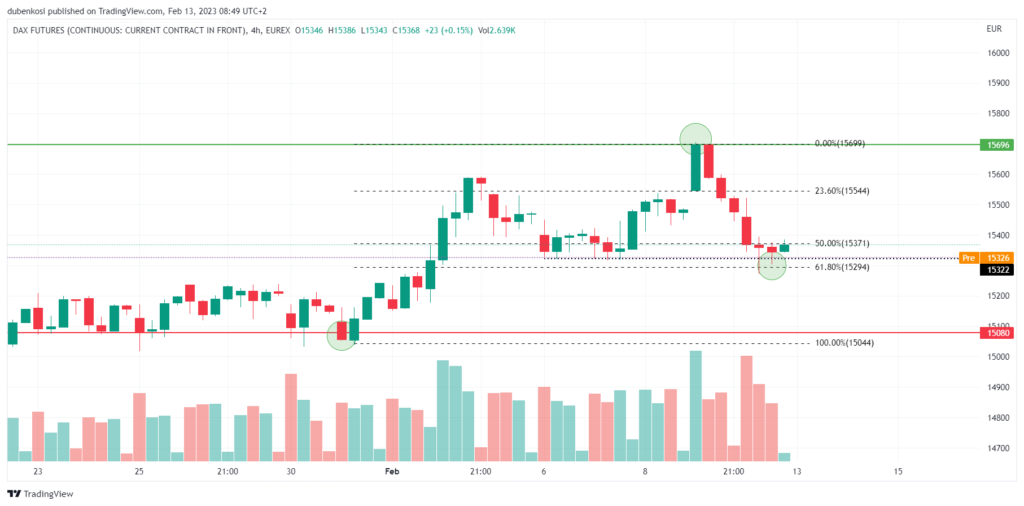 Summary
The DAX 40 will likely derive its next direction from releasing the US CPI data. Capital flows will probably be directed towards high-interest earning destinations. If the CPI data comes out stronger than expected, it will likely force the hand of the Federal Reserve to hike rates further, making US Bonds and cash more attractive at the expense of DAX 40 futures.
Sources: Reuters, Bloomberg, TradingView