German Retail sales took a knock on a yearly and monthly basis for December 2022, declining 6.4% and 5.3%, respectively. The decline signifies a potential weakness in consumer demand, which could negatively affect the Dax 40 companies, particularly those with consumer-facing operations.
In light of an expected European Central Bank (ECB) interest rate hike of 0.50%, along with signs of a slowing German and European economy, the outlook for the Dax40 futures (EUREX: FDAX) is relatively gloomy.
Technicals
Price is currently consolidating on the Dax 40 futures in a tight range after pausing a rally which kicked off in 2023. Resistance forms at the 15305 level, while support holds at the 15021 level. The current lack of direction in price movement signals investors sitting out in anticipation of the ECB's interest rate decision.
If an interest rate hike is expected, traders will closely monitor the resistance level at 15305 in anticipation of a potential reversal. Higher interest rates are likely to dampen the valuations of businesses, potentially giving way to growing bearish sentiment at the level.
On the other hand, the support level at 15021, a well-respected base where the price cannot push beyond, will be monitored closely. If the price approaches the high volume level, a breakout is possible, with a potential target at the 14960 level.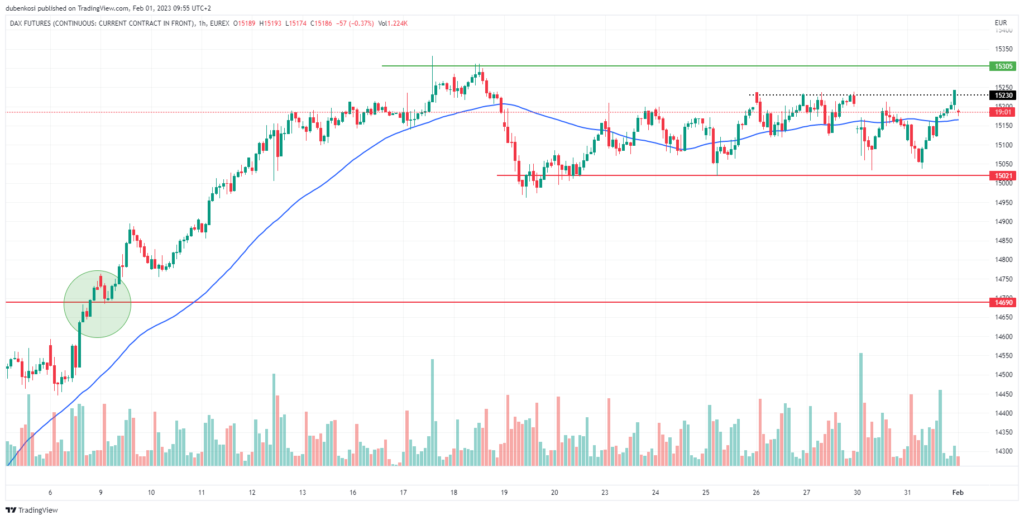 Summary
The key driver of market sentiment for the week will be the ECB's Interest rate decision on Thursday, 02 February. With economic data showing a weakening European economy, the Dax40 is likely to begin receiving interest from bearish traders and investors.