After a short thrilling rally, DAX40 futures (EUREX: FDAX) ended Tuesday uneventfully. Bulls and bears ended the day in light contention, fluctuating the index on thin volumes. U.S. inflation showed signs of cooling off, giving equity traders breathing room to buy in as bets on the jumbo-sized 50 basis point rate hike by the Federal Reserve (Fed) vanished.
Traders expect a minor 25 basis point rate hike by the Fed next week, giving hope that the period of aggressive interest rate hikes could be nearing its final chapters. On the other hand, the European Central Bank (ECB) has its foot on the gas in its drive against inflation. A 50 basis point rate hike is expected and could weigh down on European equities as borrowing costs remain elevated.
Technical
A high volume breakout below support solidified the DAX40 futures' downtrend, now acting as resistance at the 15226 level. A reversal from the 14918 level formed support and led price action into the present resistance level as volumes declined. A sideway consolidation formed a rectangle pattern, and price fluctuated within a minor support and resistance at the 15141 and 15277 levels, respectively.
A high volume breakout to either side of the pattern could lead to a sustained move in the direction of the breakout. Bears and bulls will target the 14918 and 15484 levels, respectively, following a breakout below or above the consolidation pattern.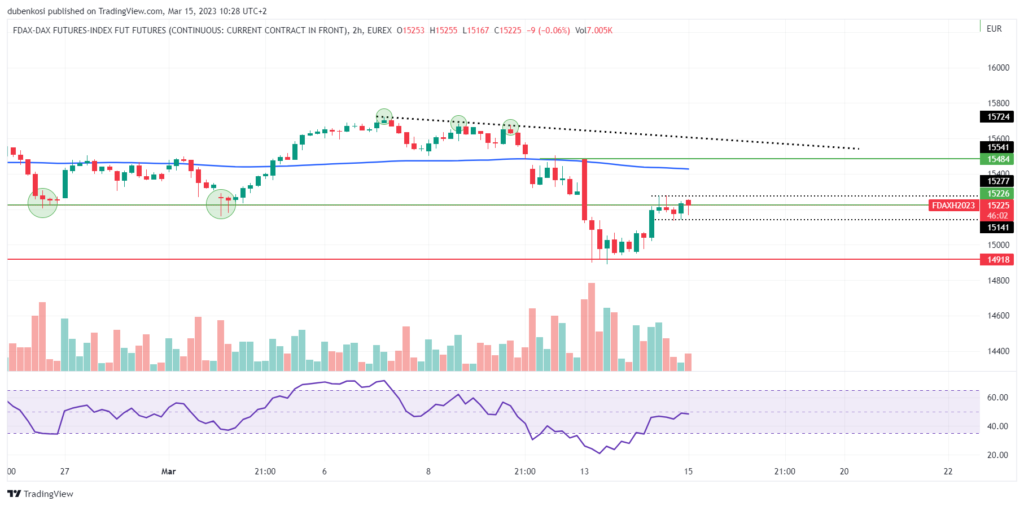 Summary
The ECB's interest rate decision on Thursday will be the focal point as traders wait to see how the central bank will deal with its above-target inflation. German equities will likely battle with another round of high borrowing costs and a potentially subdued European economy ahead, leaving downside price action likely.
Sources: Reuters, TradingView