After an eventful past week which saw the DAX40 futures (EUREX: FDAX) plunge 3.59%, the new week opened with a 1.34% dip in premarket hours as the banking sector continued to churn out events during the market close.
The spotlight was firmly on Credit Suisse, which was rescued from collapse by a takeover from its biggest competitor, UBS bank. Despite being saved from collapsing, Credit Suisse announced that $17B worth of debt would be left worthless, leaving a bad taste in investors' mouths.
On the other side of the Atlantic, the U.S. opened the tap on money supply, providing liquidity to the Banking Sector as a cushion for potential losses ahead. This could likely comfort investors over the crisis and increase risk appetite.
Technical
The prior week closed off with selling pressure lowering the index by 3.59%. Support and resistance were forged at the 14721 and 15178 levels, respectively.
With bearish momentum seemingly picking up from where it left off last week, bears will likely be charging towards support at the 14721 level. If a high volume breakout below the 14721 level plays out, it could indicate the bear's appetite to take the index lower. The next probable level of interest would be the 14429 level, based on the Fibonacci Extension Golden Ratio of 61.80%.
If bulls respect the support level, they will likely buy into the index, with the 15178 level earmarked as a probable point of interest.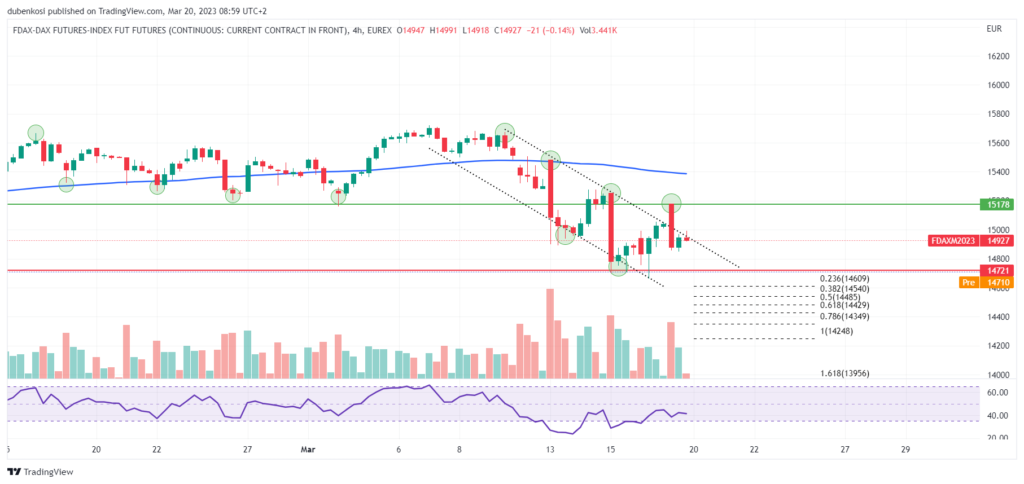 Summary
This week's key drivers for the DAX40 futures will be developments in the banking sector and the U.S. Interest Rate decision on Wednesday. Traders find themselves at crossroads as the rescue of Credit Suisse comes as a relief, but at the same time raises the alarm of a higher chance of other bank failures.
Sources: Reuters, FinancialTimes, TradingView