With the DAX40 Futures (EUREX: FDAX) all-time high around the corner, bearish traders stepped in to mitigate the move higher once again.
Negative sentiment from the banking sector arose after weaker-than-expected results from a Regional U.S. Bank sent jitters through the sector, with the likes of Deutsche Bank (ISIN: DE0005140008) shedding 3.35%.
The week ahead is crowded with earnings and economic data releases from the Euro Area and U.S. Likely impacting the DAX40 Futures the most will be the German CPI and Inflation data, and the U.S. PCE Index.
Technical
The DAX40 Futures have been knocking on resistance set at the 16046 level, with the all-time high just above. Support was established at the 15841 level after the price rejected the level in the prior week.
After breaking below a rising wedge channel, price is consolidating sideways within the support and resistance levels, forming a rectangle pattern. Price is likely to bounce off support or resistance within the zone if it respects either level. However, a breakout to either side of the pattern could prompt further price movement in the direction of the breakout.
If a breakout above resistance occurs on high volume, bulls could look to take the index higher, with the 16267 level earmarked as a level of interest. Alternatively, a breakdown below support on high volumes could validate an extended move lower, with bears likely aiming for the 15652 level.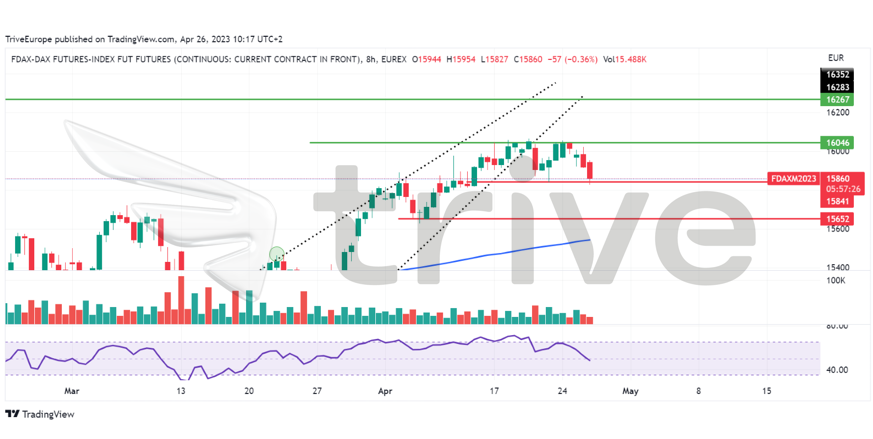 Summary
Traders will look to determine whether the European Central Bank is warranted to raise rates once again. Driving the risk on-off sentiment will be U.S. data, including the U.S. PCE Index, set to track inflationary progress in the U.S. Inflation in both regions is expected to take a slight downturn. If realised, the DAX40 Futures could find its way back to the all-time high on the back of the likelihood of declining interest rates and borrowing costs in the medium term.
Sources: Reuters, TradingView